CAMPSITE GARD SWIMMING POOL
Our aquatic area in video
CAMPSITE CEVENNES
WITH WATER PARK
A PLAYFULL WATER PARK FOR ALL AGES
Have a wonderful stay in a campsite in the Gard with pool and water slides. You dream of holidays in the sun in a natural and charming environment? Our campsite in the Gard with pool and water slides has everything to please you. Near the Cevennes National Park, you will enjoy a unique setting for family activities.
Your kids will love our camping Cevennesand its waterpark equipped with waterslides, while you take a sunbath on our private beach along the river. Book now your pitch or accommodation at our campsite with pool in the Gard.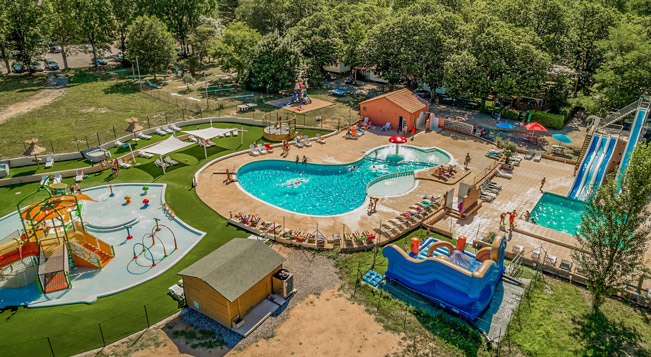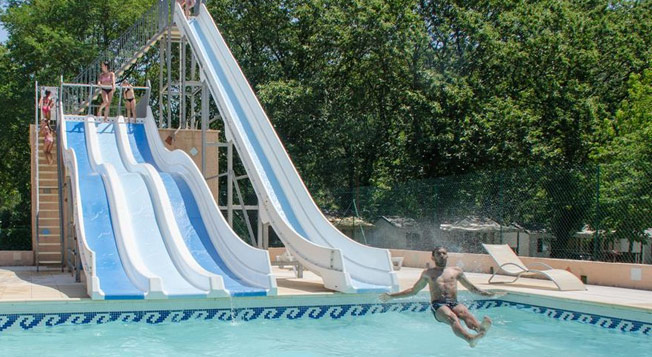 Slides
Our water park has 7 slides, 3 of which are located in the large 250m² heated playful paddling pool to delight young and old alike.
The 4 others, including a kamikaze, are located in a pool entirely dedicated to them, heated to 100m². If you are a thrill-seeker and a speed freak, or if you prefer to race on the slides with your family or friends, you are sure to find what you are looking for.
Whether it's with curves, bumps or straight, you'll have a wide choice of slides at our campsite.
Discover our huge paddling pool
Discover our enormous 250m2 children's paddling pool in our campsite next to the Anduze…
What could be better for your children than a heated paddling pool with toys suitable for all ages?
Whilst younger children splash around the mushroom showers, water cannons, snakes and shower archways, older children will have the time of their lives at the Aquatower: a 6.5m-high structure in the centre of the pool, containing 3 slides, water jets in every direction, but most importantly, a giant bucket holding over 400l of water! Mind your head when it tips over…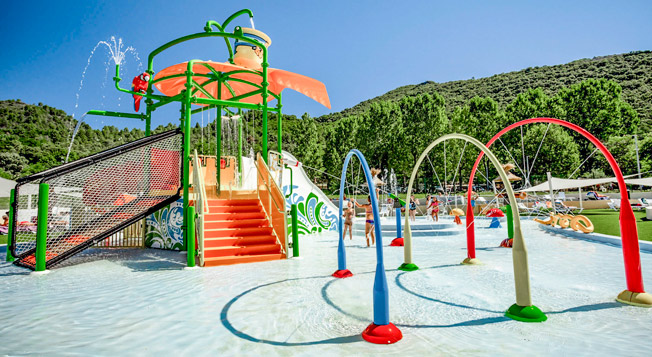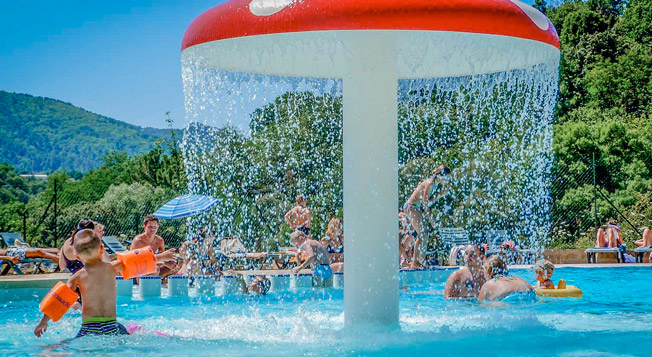 BOOK YOUR HOLIDAYS A OUR CAMPSITE
WITH SWIMMING POOL IN THE GARD
To allow you to have great stay at our campsite in the Gard with swimming pool and waterslides, we propose you a lot of activities and entertainment.
You can try some mini-golf, or ping-pong, your kids can go to the mini-club, and of course you can enjoy the themed evenings karaoke and dance evenings. You can stay in your caravan or tent, or rent a mobil-home, cottage or bungalow, we have everything you need in our campsite with swimming pool in the Gard.
Have a great holiday in campsite Gard!
The straw hut
Situated opposite the pool, the straw hut is the perfect place to quench your thirst, eat on the go or have a snack between two swims.
Would you prefer Italian ice cream or granita? Pancakes or waffles? Cheese or ham panini? Sweet or savoury? Whatever your choice, you're bound to find something to delight your taste buds in our straw hut, open every day.
Served by our team, you can enjoy our delicacies and our wide range of drinks, in the shade of the chestnut trees, with your feet in the grass, morning and afternoon.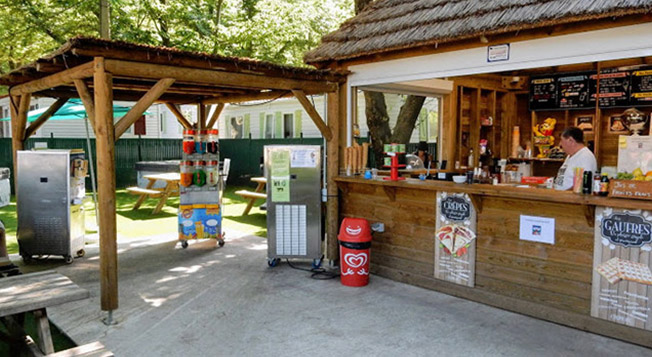 Discover the campsite
with aquatic area