PITCHES FOR TENT OR CARAVAN IN THE GARD
Premium location in the Gard
For unforgettable holidays in camping in the Gard!
Opt for a spacious and shaded Premium pitch. A nearby shared water point and 10 Amp electricity included.
Our Premium pitches are ideally placed to offer you a top-of-the-range holiday on a camping pitch.
Near the river or the swimming pool, in privileged areas, take advantage of our shaded or semi-shaded pitches. The choice is yours.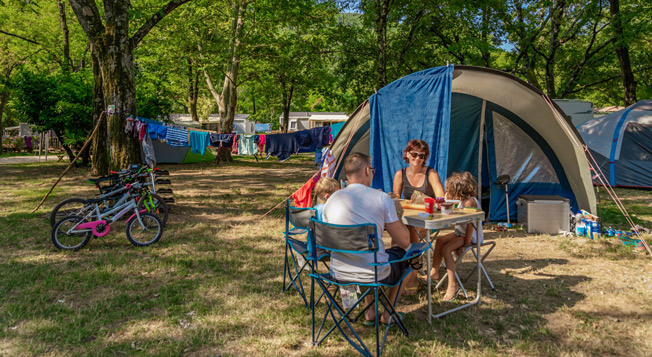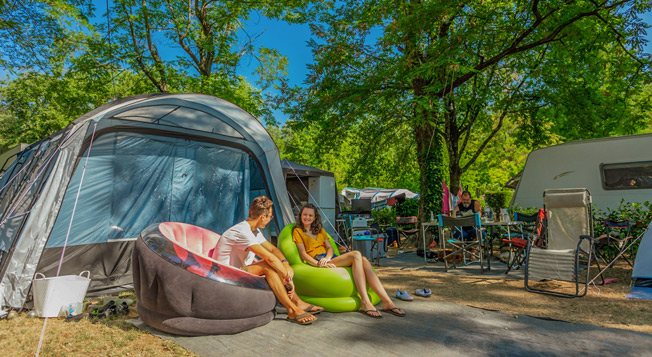 Camping and caravanning spacious
sites
Do you prefer the charm of a tent to the luxury of a fully equipped mobile home? The freedom and flexibility of a caravan or camper to the monotony of a car? Our establishment offers purists large comfortable pitches of more than 100 square meters.
Located in a quiet area of ​​the estate, near the water park or by the river, our bare grounds are perfectly integrated into nature. They are delimited by natural hedges to preserve your privacy without breaking with the surrounding environment, and surrounded by trees to offer you shaded areas.
Development of sites
in the Cévennes
Our pitches for tents, caravans and motorhomes are located close to the sanitary blocks and equipped with electrical outlets (3A, 6A, 10A). Refrigerators, barbecues and microwaves are available on request at an additional cost. These facilities allow our holidaymakers who prefer traditional camping to enjoy both a preserved natural setting and comfort worthy of an upscale outdoor hotel.
Put your luggage in the Gard, on one of the charming pitches offered by our 4-star campsite. Located in an exceptional setting, in the heart of a green countryside and on the banks of a river, our locations are varied. So, whether you want a sunny plot, along the river, near the water park or isolated, Camping Les Plans will be able to meet your request. Thus, your stay in the heart of the Cévennes, in the South of France will be a success.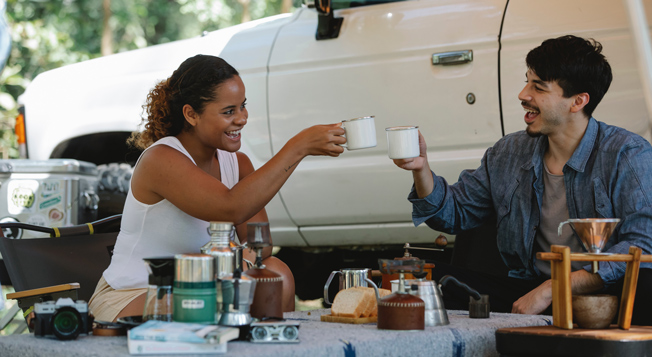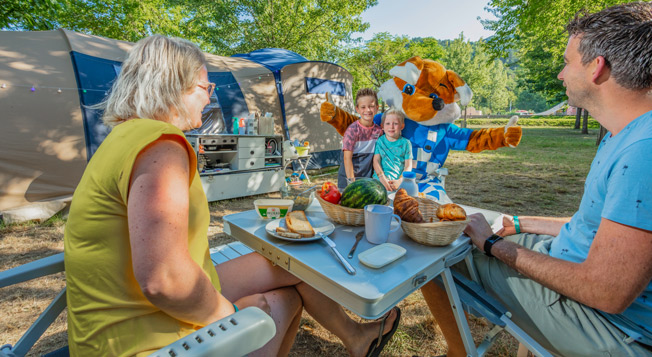 The pitches of our campsite in the Gard are large and shady and located near the river or the swimming pools. Please specify your choice when booking at our campsite of the Cevennes. Connection of 6A, option 10 A on request. Rental fridge (limited number)
Package for 2 people including vehicle on pitch
Possibility to rent a fridge, a barbecue and a microwave on your pitch
Tourists Taxes: 0.60 € /day/adult (+ 18 years)
Administration fee: 15 €/stay
Visitor (not allowed to swimming pool): 3 €
The arrivals at our camping des Cevennes will be after 15 pm – Low Season (April, may, June and September) * fixed price 2 person's electricity 3 A included
Check out our
camping locations