ECONOMIC CAMPSITE IN THE GARD : THE BEST OFFERS
The 5 top promotions
in our campsite in the Gard

.

Offer
Early Booking

Book as early as possible and benefit from a 10 to 15% discount regardless of the date and duration of your stay

Offer
Duo

20% discount on any two-week stay until 01 July 2023

Offer
Trio

30% discount on any three week stay until 01 July 2023

Offer
Quattro

40% discount on any stay of four weeks until 01 July 2023

Senior offer
long term

Stay for more than two months in a Mobile Home at a very low price

Discover the special offers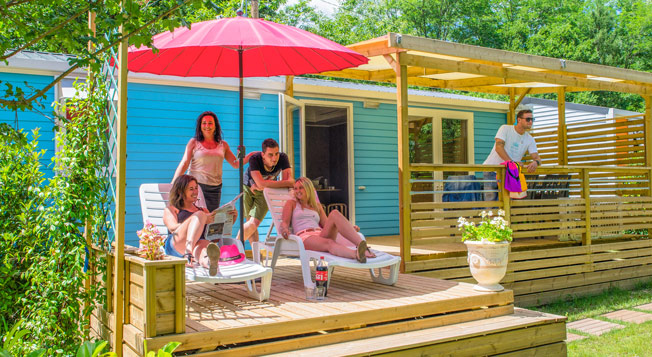 PROMOTIONS SPECIAL WEEK-END LOW SEASON AT
OUR CAMPSITE IN CÉVENNES
In April, May, June, and September, the rental of mobil-home overnight from €55 / night for 4 persons. Possibility of rental Cottage luxury 2 bedrooms or 3 bedrooms and Cottage Prestige 2 bedrooms or 3 bedrooms per night (two nights' minimum).
New : Pool of 100 m 2
Booking: on our website or by phone at 0033 4.66.85.02.46 for a great holiday at very soft price.
Discover our region during your holiday in the Gard.
CAMPING RIVERSIDE IN THE GARD WITH HEATED SWIMMING POOL:
RENTAL MOBIL HOME PER NIGHT (MINIMUM 2 NIGHTS)
From 11th May to 25th June 2023, and from 26th August to 3th September, you will have the possibility to rent your mobile home at the best price per night in our campsite of the Cevennes.
To spend a weekend with family or friends, Les Plans **** offers relaxation and sun in our splendid landscape cevenol. For more information, feel free to contact us by mail or telephone 0033 4.66.85.02.46.
You can also book directly on our website!
Take the opportunity to rent an economic mobil-home for a quality campsite holiday. Even with a campsite at a small price, you will enjoy all the services of the campsite: the entertainment, the swimming pool, the slides… Discover also our loyalty program and take advantage of more and more good deals.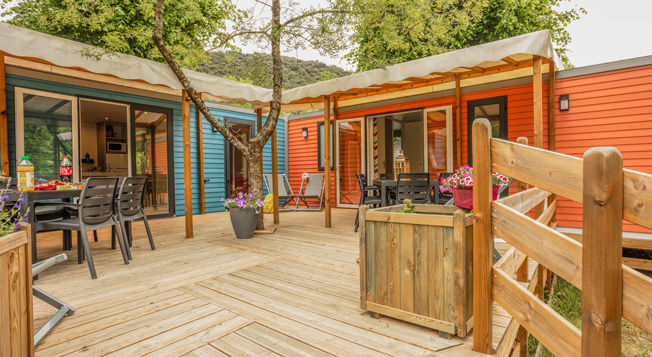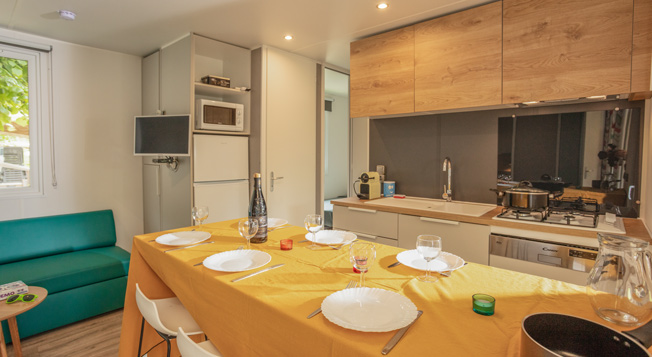 ECONOMIC PITCH LOW SEASON
IN OUR CAMPSITE IN THE CÉVENNES
During low season, we propose a pitch (tent, caravan, camper) in our economic campsite in the Gard, allowing you to enjoy camping holiday at a lower cost. Our low price includes rental of a pitch for 2 persons.
You can also enjoy free access to all our camping activities in the Cevennes (pool, River, mini-golf, multi-sport, playground, etc.).
Long term rental mobil home
in low season
With our fixed price mobil-home low season you can take very long holidays at Camping Les Plans at a soft price. From May 11th to 1 July, and from 26th August to 3th September, our fixe price mobil home is at only 1550 € for 4 persons. Water, gas and electricity included, and for only 100 € extra you can be upgraded in a Luxury cottage equipped with a TV and micro waves.
Rental package for mobile homes from 11 May 2023 to 1 July and from 26 August to 3 September 2023 :
1.550€ in mobile home 2 bedrooms
1.650€ in luxury 2 bedrooms cottage
2.000€ in prestige rental with 3 bedrooms and one bathroom or 2 bedrooms and two bathrooms
Contact us directly by mail or telephone at 0033 4 66 85 02 46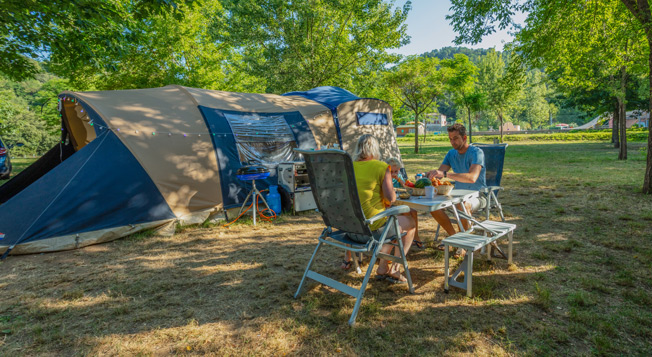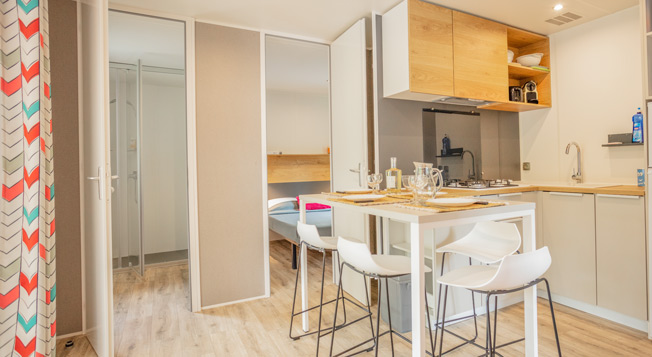 VISIT THE CEVENNES IN THE MONTH OF JUNE AND
ENJOY A ECONIMIC CAMPSITE IN THE GARD
If you have the possibility to go on a holiday in low season, take the opportunity to join our economic camping in the Gard. Indeed, either in May, June or September, you can enjoy a Mediterranean climate, which has nothing to envy of that of July / August.
You will also have an easy access to all the attractions of the region, taking advantage of less people, and reduced rates. Even in low season, you will have access to the two pools of our campsite in the Cevennes.
Our restaurant will open its doors with a varied local card, and a warm welcome team. You can also make your purchases at Proxi, the little supermarket of the campsite, which offers throughout the day a hotspot (bread, pastries, etc …), and access to the local, national and foreign press. Don't forget your cancellation insurance!
Check out our rates
at the campsite